Braehead Farm Lunch Kitchen
The Braehead Farm Kitchen is open DAILY!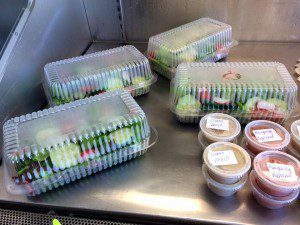 WEEKENDS  from 11:00 AM to 4:00 PM and WEEKDAYS FROM 11:00 AM TO 2:00 pm.
NOTE:  Due to a staff emergency our lunch kitchen will be closed, Sunday May 28 and Monday, May 29, 2017.  We apologize for any inconvenience.  You are certainly welcome to bring a picnic!
Stop by for a lunch!
Delicious BBQ  with your choice of Braehead Farm BBQ sauces
Cole Slaw
Hotdogs
Chicken strips
Gluten Free Chicken Strips
Hamburgers and cheeseburgers
Grilled chicken sandwich
DELICIOUS grilled chicken salad!
Deli Turkey or ham sandwhiches
Fresh cut salads from our fields!  Add grilled chicken!  Try one of our Braehead Farm dressings on your salad!
chicken salad
Macaroni and Cheese
French fries
Our sandwiches can be made on a gluten free bun!
Gluten Free Items:   Pork BBQ, grilled chicken, hamburgers, hotdogs, chicken salad, grilled chicken salad!   All are put on a gluten free bun. Chicken tenders,   French fries, fried green tomatoes, potato salad, cole slaw, salads!
We also serve a slice of Pie and ice cream!   Waffle cones with dairy fresh ice cream!   MMMmmmmmmm!!
The Braehead Farm Kitchen also makes delicious cookies, pies, sliceable loaf cakes, whoopie pies, donuts, cinnamon buns, muffins!   Stop in for a muffin and coffee or hot chocolate!