Santa is Coming!
0
Fall and Winter at Braehead Farm!
NEW HOURS due to Daylight Savings Time! Braehead Farm will be changing our closing time to 5:00 pm due to daylight savings time. We will be open Daily from 9am – 5pm starting on Sunday, November 3, 2019 through March 6, 2020.  Braehead Farm is open Year-round!  Starting March 7, 2020 we will be open 9am-6pm daily.  (Closed Thanksgiving day, closed early on Christmas Eve at 1:00 pm, closed on Christmas Day, New Years Day, and Easter Sunday)
Santa Claus is coming to Braehead Farm!
Join us THE FIRST TWO WEEKENDS IN DECEMBER –  Saturday and Sunday, December 7, 8, 14 and 15th at Braehead Farm for Christmas fun at the farm!  Visit with Santa, make Snowman Soup!  Have hot chocolate, and roast marshmallows over the roaring fire pits!   Play in the Family Play-Grounds and visit the farm animals!
Santa Claus will be waiting for you to visit him in The Red Shed!  Be sure to bring your cameras!! 

Santa will be in The Red Shed from 9:30 am to 12:30 pm  and again from 1:30 pm to 4:30 pm

!  The farm is open from 9am to 5:00 pm daily, year-round! (open 9-6 Spring through Fall!)
Then make your way over to the hot chocolate bar to make 

SNOWMAN SOUP

!  Mmmmm!  Lots of fun!
Make a

snowman marshmallow on a roasting stick

!
Head out to the roaring fire pits and

roast your marshmallow snowman!

Stay and

play in the Family Play-Grounds

and visit with the farm animals!
Cost:  $9.00 per person,  Age 2 and under free!  ** Season Pass Holders pay only $4.00 per person!  (You are still able to visit the Family Play-Grounds as always and only pay the daily fee of $5.00 per person, age 2 and under free, if you do not wish to participate in the Santa event!)
When you arrive, please check in with the Braehead Market to get your ticket number for your turn in The Red Shed with Santa.  The exterior of The Red Shed will have a LED lighted sign with the "number being served", so that you have your special time,  in the order of arrival, with Santa!   While you wait for your number, go play and visit the animals! Just watch for your number…no waiting in line.  If you are having fun playing and we passed your number, no worries, just come on to The Red Shed!
The Braehead Farm Kitchen will be serving lunch and concessions!  Hot popcorn!   Gingerbread men!  Have a warm BBQ sandwich with one of our Braehead Farm  BBQ sauces….And…much more!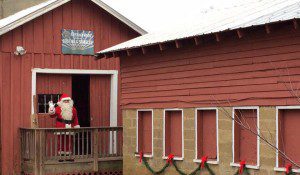 YOU CAN PRE-ORDER YOUR HOLIDAY BAKERY ITEMS!
CALL AHEAD FOR YOUR SPECIAL ORDER BAKERY  ITEMS OR STOP IN
Feel free to call the Market and pre-order for pies, cakes, muffins, cookies, dairy items,  for a pickup!  Let us make that special occasion dinner PIE or sliceable LOAF CAKE for you!  Call the Braehead Market at 540-899-9848
PIES: Apple, Dutch Apple, Caramel Apple Nut, Cranberry Apple, Apple Raspberry, Blackberry, Blueberry, Cherry, Peach,  Fruits of the Forest, Strawberry Rhubarb and Coconut Custard.  Seasonal pies: Pecan, Pumpkin, Raspberry and Sweet Potato.
LOAVES: Apple Caramel, Blueberry, Cinnamon Burst, Cranberry Orange Nut, Zucchini Nut, Pumpkin, Triple Berry, Banana Nut, Lemon, Peach Melba, Triple Berry Loaf and Pound Cake.
COOKIES: GINGERBREAD MEN! (seasonal) Chocolate Chunk, Double Chocolate Chunk, Sugar Cookie, Oatmeal Raisin, Peanut Butter, M & M, and Ginger Molasses.
MUFFINS: Peach, Cranberry Orange Nut, Chocolate Chip, Double Chocolate with chips, Pumpkin, Blueberry, Banana Nut, Lemon Poppyseed, Red Velvet, Rum Butter and Corn Muffins


WE ARE OPEN ALL WINTER FOR FUN ON THE FARM!

Visit our front "Pick-Your-Own" fields!

There is never an admission to visit our "pick-your-own field, picnic area, and of course shop in the market and have lunch!  Just pay for what you pick!  Currently available:  pie pumpkins, gourds, squashes, spinach, kale, collards, mustard greens, turnips, cabbage, lettuce,  beets, carrots.

Play in the "Family Playgrounds"!  $5.00 per Person, age 2 and under free! Farm animals, hay barn, sand piles, tree house, slack line, steer heads rope, picnic areas and much more!  Enjoy many of the Braehead Farm lunch items and picnic!

Shop in the Braehead Farm Market where you can purchase produce already picked!   Enjoy ice cream and lunch!  Shop for fresh meat, dairy products and bakery products!   Christmas items!  Jams, relishes and pickles!  Local Honey!  And…so much more!
Contact Us
Phone: 540-899-9848
Fax: 540-899-9847
Email: info@braeheadfarm.com
1130 Tyler Street
Fredericksburg, VA22401
map