Santa is coming!
0

Santa is coming! December 3, 4, 10, 11th.   Visit with Santa in the Red Shed!  A real bearded Santa! Make Snowman Soup!  Make a marshmallow snowman and roast marshmallows! Enjoy Hot Cocoa! 

Fun in the Family Playgrounds! Visit the animals! 

Bring your cameras!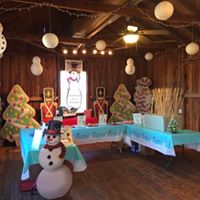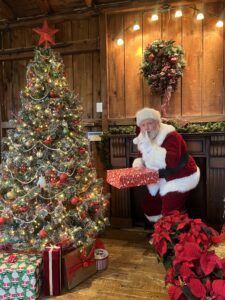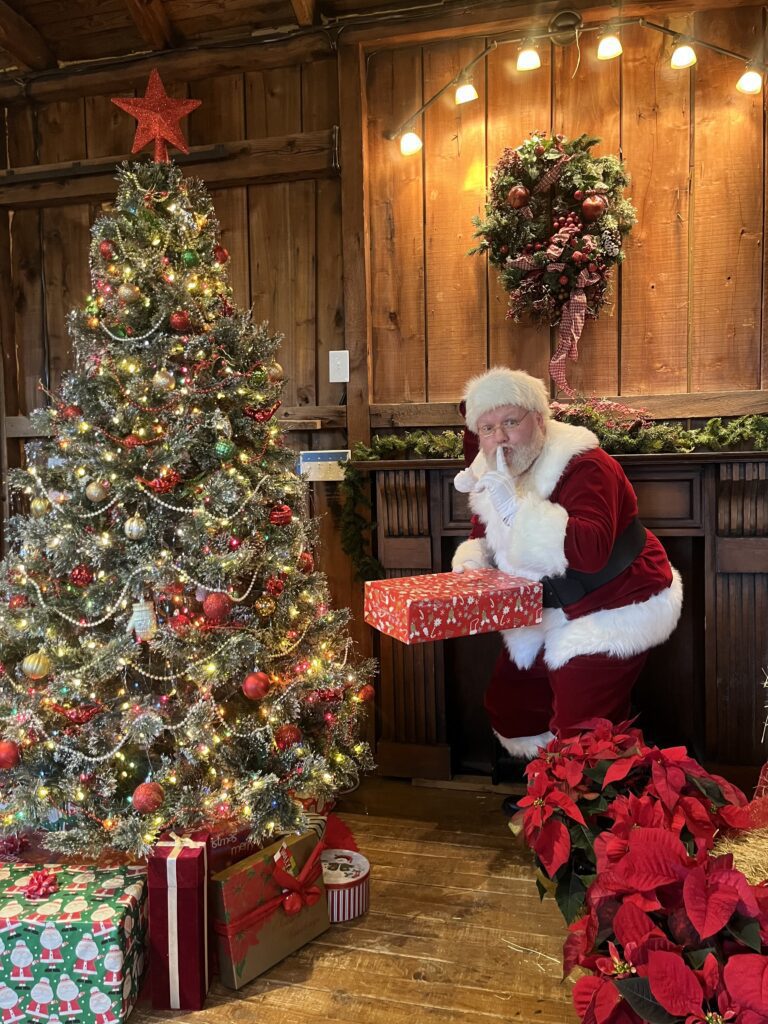 Braehead Farm is open daily 9am-5pm!
Santa will be in The Red Shed waiting for you to visit him from:
9:30am-12:30pm AND 1:30pm-4:30 PM.
(Santa takes a break from 12:30 to 1:30, so go play, shop, or have lunch and ice cream! The lunch kitchen will be open!
No reservations needed. No waiting in line! Go play in The Family Playgrounds until your number given as you arrived is shown on the LED screen at Santa's Red Shed barn! Don't forget to get your number when you arrive!
Visit with SANTA! Make SNOWMAN SOUP with the elves! Make a marshmallow snowman on a roasting stick! ROAST MARSHMALLOWS and drink your Snowman Soup! Go playand visit the animals, grab some lunch from the lunch kitchen and shop in the market!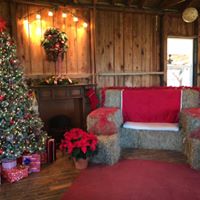 Cost: Our everyday $5.00 Family Playgrounds fee PLUS the Santa Event Fee of $7.00 per person (children and adults) for a total of $12.00 PER PERSON, AGE 2 AND UNDER FREE! This fee includes all day play in The Family Playgrounds! Go play, picnic and visit the farm animals while waiting your turn to go into the Red Shed!
2022-2023 Fall/Winter Season Passholders only pay the Event fee of $7.00 per person, age 2 and under free. Bring your cameras! (No professional photographer on site. We will help you with your photos!)
The market will be full of fresh baked cookies, gingerbread men, coffee and hot cocoa!
PLEASE NOTE, Santa does take a break between 12:30pm and 1:30pm.
If you arrive close to 12:00 noon or later you will be advised that you may have to wait until after Santa's break to visit him in the barn. The wait will depend on the number of guests ahead of you. PLEASE, be patient as we will do our best to give everyone ample time with Santa while also trying to get everyone through before the break. You are welcome to have lunch or play on the farm during that time.
We limit the amount of people in the barn at one time. There is a family waiting, one with Santa, one starting the Snowman Soup and one at the exit getting their marshmallow roasting sticks.
No one will be in the barn until their number has been shown on the LED screen out front and they show their REQUIRED EVENT WRISTBAND TO ENTER THE BARN.
Winter at Braehead Farm!  
Winter hours – Open every day 9am-5pm.  Open year round!  Closed at 1:00 pm on Christmas Eve and closed on Christmas Day and New Year's Day.
The Braehead Farm Market, Lunch Kitchen, and Family Playgrounds is open year round!  You can purchase seasonal produce already picked or pick your own!   Enjoy ice cream!  Shop for meats, dairy products and bakery products!    Jams, relishes and pickles!  Local Honey!  And…so much more!
Let us do the holiday baking for you!  
Feel free to call the Market and

pre-order

for pies, cakes, muffins, cookies, dairy items,  for a pickup!  Let us make that special occasion dinner dessert PIE or sliceable LOAF CAKE for you!  Call the Braehead Market at 540-899-9848
PIES: Apple, Dutch Apple, Caramel Apple Nut,  Blackberry, Blueberry, Cherry, Coconut Custard, Peach, Fruits of the Forest, Strawberry Rhubarb.  Seasonal pies: Pecan, Pumpkin, Raspberry and Sweet Potato.
SLICEABLE LOAF CAKES: Apple Caramel, Blueberry, Cinnamon Burst, Cranberry Orange Nut, Zucchini Nut, Pumpkin, Triple Berry, Peach Melba, Triple Berry Loaf and French Vanilla!
COOKIES: Chocolate Chunk, Double Chocolate Chunk, Sugar Cookie, Oatmeal Raisin, Ginger Molasses, M & M, Smore's, snickerdoodle.
Seasonal cookies-Gingerbread men
MUFFINS: Peach, Cranberry Orange Nut, Chocolate Chip, Double Chocolate with chips, Pumpkin, Blueberry, Banana Nut, Lemon Poppyseed, Rum Butter.
Current produce in our fields:
No reservation needed. There is no admission to pick produce in the front PYO fields…just pay for what you pick. (The only admission area is the Family Playgrounds with the farm animals. $5.00 per person, age 2 and under free.  *see below)
VEGGIES: Kale, collards, spinach, carrots, beets, bell peppers, banana peppers, snacking peppers, hungarian wax peppers,  Jalapeno peppers, eggplant, winter squash, pumpkins and decorative gourds.
PETS ARE NOT ALLOWED, BY LAW, IN THE FRONT PICK-YOUR-OWN FIELDS.  You are welcome to bring your dog on a leash and pick up after them, in the other areas of our farm.  We prefer the dog NOT come into the market IF the market is busy and full of customers.  We would be glad to help you to get to the back of the market by walking around.  Just remember that we have free range chickens.  
************************************************************************
Braehead Farm is open YEAR-ROUND! Our Spring through Fall hours are 9am-6pm. Winter hours are 9am-5pm beginning on November 6, 2022.
Shop in the market, stay for lunch and ice cream, play in the Family Playgrounds! 
Shop for Farm Fresh Dairy, eggs, meats, bacon, jams, peanut butters, peanuts, fudge, bakery items and more!
*Daily Play in The Family Playgrounds behind the market from 9am-6pm – no reservation needed. 
The daily admission is $5.00 per person, children and adults.  Age 2 and under are always free.   You pay this admission in the market when you arrive.  You can visit the farm animals, play and picnic.  We also offer a Seasonal Pass for unlimited visits during the pass dates, of $25.00 per person, age 2 and under free.   The Spring Summer Season Pass starts for use on February 22, 2023 and goes through Labor Day, September 4, 2023.   The Fall Winter then starts in September through February!  See a cashier for details!
Rental Barns for parties and events!  See our Birthday party page!
The Braehead Farm Lunch Kitchen is open weekdays from 11am-2pm and weekends from 11am-4pm.  You can picnic beside the market or in the Family Playgrounds if you have paid admission.  We do have limited table spaces inside the market for lunch and ice cream.
View our current  menu:  click this link…
Braehead Farm Lunch Kitchen | Braehead Farm
 ********************************************************************
Contact Us
Phone: 540-899-9848
Fax: 540-899-9847
Email: info@braeheadfarm.com
1130 Tyler Street
Fredericksburg, VA22401
map