Fall Festival Weekends!
0
Update:  Sunday, 10/25 – Braehead Farm will remain open today from 9-6.  We will continue with the Festival until the rain does not allow the hayride to continue due to mud/safety.  The rest of the farm will continue on as planned.
You must have tickets for the Festival in advance!   The front "PICK YOUR OWN" fields are open and available for guests to come pick pumpkins and produce without a ticket and have no admission fee (just pay for what you pick),  but the Festival EVENT behind the market  must have prepurchased tickets. 
Braehead Farm
Fall Festival Weekends!
Join us every Saturday and Sunday beginning…
September 26, 2020 – October 25, 2020 weekends only
Open 9am-6pm 
The Fall Festival Weekends are for 5 weekends only and require pre-purchased tickets in order to get into the Family Playgrounds and Fall Festival Event! Choose your date and arrival time. (Arrival times are staggered to avoid lines.)  Last tickets for the day will be sold at 4:30 PM for 1.5 hours of admission before close at 6:00 PM.  There is NO TIME LIMIT on your visit.  Most guests stay about 2-3 hours.  Fall Festival tickets are $9.00 per person, age 2 and under free.  (This fee includes the $5.00 everyday fee for the Family Playgrounds AND the Fall Festival Entry.) 
 *** Due to the Governor's Orders of controlling the amount of guest entry to an event, entry to the farm on the 5 Fall Festival Weekends will require a   pre-purchased $9.00 ticket online, age 2 and under always free.  This fee includes our everyday $5.00 Family Playgrounds Fee PLUS the $4.00 Fall Festival Event fee.  2020 Fall/Winter Season Pass Holders are required to pre-purchase a Fall Festival Discounted Ticket for $4.00  Pass holders are not required to purchase a Family Playgrounds ticket. ***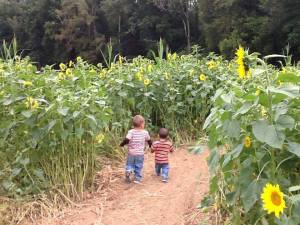 Join us at Braehead Farm for hayrides (half capacity), corn maze, an interactive game within the corn maze, a sunflower maze, and lots of fun photo opps.  Also, join in the fun in our Family Playgrounds!  Visit the farm animals!  Lots of swings,  a tree house, sand piles, slides, hay barn, volleyball, tether ball, steer heads to rope, and more!   Come and picnic, enjoy lunch from the Braehead Farm Kitchen or bring your own food.  Concessions with  Kettle Korn, dairy fresh ice cream,  and more!  Braehead Farm has 28 PUMPKIN PATCHES AROUND THE FARM FOR PLENTY OF SOCIAL DISTANCING!   The Fall Festival Event has its own pumpkin patch!  Pumpkins are sold separately at .70 cents per pound.  Outdoor check-ins and check out!    
You do not have to attend the Fall Festival to pick pumpkins, shop in the market or have lunch and picnic!  Our front PICK YOUR OWN fields DO NOT require a preticket.  These fields are open everyday from 9am-6pm for picking produce/pumpkins.  There is never an admission in the PYO fields, you just pay for what you pick.  Pumpkins are sold at .70 cents per pound.  You must social distance in the fields.
*The 2020 Fall/Winter Season Passes: Season Pass holders will only pay $4.00 per person for Fall Festival.  A Season Pass allows a guest unlimited visits to the Family Playgrounds through February 28, 2021.  The pass is $20.00 per person, age 2 and under free,  and are available for purchase on the pre ticketing system and also available during the weekdays in person at the farm. 
PUMPKIN SEASON UPDATE!
A NOTE FROM THE FARMER:
Hello folks!  Just a little farmer update on this year's PUMPKIN SEASON.  If you attend a pumpkin patch this year, please be kind to the farmer and his staff concerning the amount of green pumpkins or rotting pumpkins.   It has been a struggle of a pumpkin season.  Some farmers tilled in what they grew, losing their whole crop.
The farmer at Braehead Farm has been in contact with many farmers from Virginia and several other surrounding States concerning pumpkin yields.  If you think back to June and July when pumpkin planting begins, we had continuous DRY and very HOT weather.  In August we had way too much rain.  Many of us farmers had to do expensive plantings twice.  The second planting then got too much rain in August, causing what had produced, to start to rot.  We now all have the issue of lots of green pumpkins in the middle of October.
We at Braehead Farm tried to salvage and save orange pumpkins to get them off the ground so they did not rot in the rains, and put them out to sell later.  Lots of labor.  We still have a lot of pumpkins, but also have a lot of rotten pumpkins we are trying to clean up, and we have green pumpkins still to ripen.  We haven't been able to do our donations this year, or our bulk pumpkin orders due to this shortage.
It has been an odd weather/farming year for berries and vegetables too.  Late frosts hurt berries and orchards.  Everything has been late this year, many double plantings, including pumpkins.   
***********************************************************************
State of Virginia COVID-19 requirements:  Masks are required by Virginia State Order #63 inside (the market) for ages 10 and up,  and in busier traffic areas such as outdoor lines at check-in, lunch ordering, hayrides and corn maze where a constant 6 ft of distance may be harder in congregating areas.  
Braehead Farm will have line markers and guidance to help distance in these areas, and is also limiting the amount of guests at the festival with the ticketing system.  We are putting forth our best efforts to abide by the State of Virginia requirements and we ask our guests to do the same in order to keep our staff and guests as safe as possible, and help us stay open.  Braehead Farm has 4 new OUTDOOR check-in and checkout locations to help with safety.  Please be mindful of social distancing in all areas. 
The Virginia Executive Order #63 states, with regard to outdoor mask requirements: "With respect to recreation and entertainment businesses, once they reopen, a patron would have to wear a mask outdoors if six feet of physical distance cannot be maintained from another patron."
"Persons with health conditions that prohibit wearing a face covering: Nothing in this Order shall require the use of a face covering by any person for whom doing so would be contrary to his or her health or safety because of a medical condition."
***********************************************************************
WEEKDAY FUN TOO!
Pick Your own pumpkins, sunflowers, produce in our Pick Your Own fields during the weekdays!  There is no admission in the "Pick Your Own" fields…just pay for what you pick!  Pumpkins are .70 cents a pound.  Please handwash before pumpkin/produce picking.
WEEKDAY Family Playgrounds daily admission is $5.00 per person, age 2 and under free, and will not require a preticket during the WEEKDAYS.  There is NO Fall Festival during the weekdays, but there is plenty of pumpkin picking, playing and picnicking during the weekdays!  The Braehead Farm Lunch Kitchen is open from 11am-2pm weekdays. 
 ***********************************************************************
Shop in the Braehead Farm Market where you can purchase produce already picked!   Enjoy ice cream!  Shop for fresh meat, dairy products and bakery products!    Jams, relishes and pickles!  Local Honey!  And…so much more!
CALL AHEAD FOR YOUR SPECIAL ORDER BAKERY  ITEMS OR STOP IN!
Feel free to call the Market and pre-order for pies, cakes, muffins, cookies, dairy items,  for a pickup!  Let us make that special occasion dinner dessert PIE or sliceable LOAF CAKE for you!  Call the Braehead Market at 540-899-9848
PIES: Apple, Dutch Apple, Caramel Apple Nut, Cranberry Apple, Apple Raspberry, Blackberry, Blueberry, Cherry, Peach,  Fruits of the Forest, Strawberry Rhubarb and Coconut Custard.  Seasonal pies: Pecan, Pumpkin, Raspberry and Sweet Potato.
LOAVES: Apple Caramel, Blueberry, Cinnamon Burst, Cranberry Orange Nut, Zucchini Nut, Pumpkin, Triple Berry, Banana Nut, Lemon, Peach Melba, Triple Berry Loaf and Pound Cake.
COOKIES: GINGERBREAD MEN! (seasonal) Chocolate Chunk, Double Chocolate Chunk, Sugar Cookie, Oatmeal Raisin, M & M, and Ginger Molasses.
MUFFINS: Peach, Cranberry Orange Nut, Chocolate Chip, Double Chocolate with chips, Pumpkin, Blueberry, Banana Nut, Lemon Poppyseed, Red Velvet, Rum Butter and Corn Muffins
Contact Us
Phone: 540-899-9848
Fax: 540-899-9847
Email: info@braeheadfarm.com
1130 Tyler Street
Fredericksburg, VA22401
map