Asparagus & Strawberries!
0
Produce Update as of Wednesday May 22, 2019! 


We still have

STRAWBERRIES

to pick! The season has reached its peak, but berries will still be available to pick for a couple of weeks, although not as plentiful to be able to pick a bucket in one spot.
We will

NO LONGER have PRE-PICKED STRAWBERRIES

for the Market THIS SEASON- we only have "pick-your-own".


ASPARAGUS

– will be in the market for about another week.


RASPBERRIES

– are coming in now! 


BLUEBERRIES

– are just starting to ripen and should be available in a few days to a week.


BLACKBERRIES

– available in about 2 weeks.


We also have lettuce, kale, beets, sugar snap peas and wildflowers!
We have ASPARAGUS!  Prepicked  in the market for   $5.00 per pound.  We bundle our asparagus in one pound bundles. (Asparagus is not pick your own.)  Large orders, please call in advance  540-899-9848,
STRAWBERRIES…are in and ready to pick or purchase in the Braehead Farm Market!
Strawberries are sold by the pound at Braehead Farm.  Strawberries will be available through the month of May.  They dwindle down around the beginning of June when the above 90 degree temps are consecutive.
Pick-your-own strawberries are $3.29 per pound.  Please check in with the market for a busket to pick in, and directions to the fields.
Pre-picked strawberries, sold in the Braehead Farm market, are $4.29 per pound.  When the strawberries become plentiful to pre-pick, we will have them in the market.  We will update when we do.  Please call ahead for large orders 540-899-9848.
For pick-your-own (PYO)….We offer our pre-weighed 4 quart "Busket" for a $1.00 (it will hold about 5 pounds)  and we  encourage you to wash and store your berries in it.  (DO NOT WASH YOUR BERRIES UNTIL YOU EAT THEM AND KEEP THEM COOL!)  You can bring the busket back for any PYO!  
Flats are $2.00 which include 8,  quart containers and the flat.  Our buskets and flats are preweighed so that the weight of the containers are taken off at payment. We do not deduct the weight of your own containers if you bring them in.
(FYI Blackberries, black raspberries, raspberries and blueberries in June!)
Field rules:  
You are not allowed to eat the berries in the fields.  You must bring the picked berries in the market, have them weighed and purchase them by the pound before eating.
Please pinch the berry stem, do not yank the berries off of the plant.  This will pull the plant.
Please do not walk back and forth across the rows, stay in the row lane.
FYI:  PETS ARE NOT ALLOWED, BY LAW, IN THE FRONT PICK-YOUR-OWN FIELDS.  You are welcome to bring your dog on a leash and pick up after them, in the other areas of our farm.  We prefer the dog NOT come into the market IF the market is busy and full of customers.  We would be glad to help you to get to the back of the market by walking around.  Just remember that we have free range chickens.  🙂
Tips!
A a quart equals 1 and 1/2 pounds of fresh berries. Strawberries measurements: 1 quart = 2 pints = 4 cups and is about the same as 1 liter and weighs 1.25 lbs to 1.5 lbs (or 600 to 700 g). The weight varies on variety and weather conditions.  1 quart is normally enough for 4 servings.
Unripe berries will not ripen once picked. Select plump, firm, fully red berries. Be sure to pick the berry from the stem and leave the hulls on.
Keep the strawberries out of the sun and heat.  Strawberries quickly mold and perish when left at room temperature, and only last about 2 to 3 days in the refrigerator.
You can easily freeze berries that you cannot use right away.  Wash, cut the hulls off and put the berries into a ziplock bag, removing as much air as possible.  The berries will keep for many months frozen without air.
Braehead Farm strawberries are not sprayed with any kind of pesticide.  The plants (before bearing fruit) are treated with a fungicide during the winter.  No fungiscide or pesticides have been sprayed on the berries.
If you would like to help the farmer, please pick off any berries you see that have rot, insect or sun damage and put them between the rows.  This helps to keep rot from spreading to the other berries on the plant.
Strawberry Shortcake is Coming!
Meet with Strawberry Shortcake in her clubhouse at Braehead Farm!
Farmer Snead at BRAEHEAD FARM has done it again and has turned to his friends for help! This time, he has called his friend STRAWBERRY SHORTCAKE!  Since Strawberry Shortcake loves strawberries so much, Farmer Snead asked her to help in celebrating the STRAWBERRY SEASON!
Join us at Braehead Farm for a BERRY FUN, BERRY BASH!
on Friday, May 17, 2019 from 10am-2pm
and Saturday, May 18, 2019 from 10am-2pm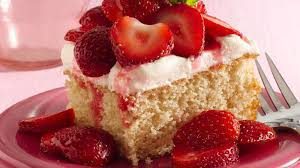 STRAWBERRY SHORTCAKE will be waiting for you to visit her in her  BERRY FUN, DECORATED "CLUBHOUSE" next to the strawberry patch at Braehead Farm!   She will be  READING STORIES EVERY HOUR (first reading at about 10:30am) and TEACHING HOW TO PROPERLY PICK THOSE PRECIOUS STRAWBERRIES!  LOLLIPOPS AND STRAWBERRY  STICKERS FOR THE  CHILDREN!  BRING  YOUR CAMERAS!
STRAWBERRY SHORTCAKE'S BERRY FUN, BERRY BASH, IN HER CLUBHOUSE, IS FREE TO ATTEND!

PICK STRAWBERRIES!   Strawberries are $3.29 a pound to pick your own, or $4.29 a pound already picked in the Braehead Farm Market!
Braehead Farm's Lunch Kitchen will be open and serving STRAWBERRY SHORTCAKES, STRAWBERRY LEMONADE, STRAWBERRY RHUBARB PIE, STRAWBERRY ICE CREAM!
Located at:  1130 Tyler Street, Fredericksburg, VA  22401
540-899-9848