Winter at Braehead Farm!
0
Braehead Farm is open YEAR-ROUND!   Winter hours are 9:00 AM to 5:00 PM daily!  (The Braehead Farm Lunch Kitchen will close from December 23, 2017 through March 1, 2018.)
Stay tuned for UPCOMING SPECIAL EVENTS on our Events Page!
Elsa from FROZEN will be at Braehead Farm on March 2 and 3, 2018 to bring back Summer!
Braehead Farm's Annual Easter Event – March 24, 25 and 31st, 2018!
The Braehead Farm Market and Farm is open everyday!  Stop in for farm fresh eggs gathered daily!  Dairy fresh items such as milk, butter milk, heavy cream, creamy chocolate milk, cheeses, ice cream!  Jams, Jellies, sauces, pickled items and more!
We have our own grass fed Angus beef cow herd!  We sell beef and pork!   Arrange for purchase of a whole cow, half or quarter cow!
Stop in or call ahead for your PIES, sliceable LOAF CAKES and COOKIES!  Braehead Farm Market phone number 540-899-9848

Pies available:
Apple, Dutch Apple, Caramel Apple Nut, Blackberry, Blueberry, Cherry, Fruit of the Forest, Peach, Pumpkin, Pecan, Strawberry-Rhubarb
Loaf Cakes:
Apple Caramel, Banana Nut, Blueberry, Cinnamon Burst, Orange-Cranberry, Peach Melba, Pound cake, Pumpkin, Red Velvet, Zucchini Nut
Muffins:
Banana Nut, Blueberry, Carrot Cake, Chocolate Chip, Cranberry-Nut, Lemon Poppyseed, Peach, Pumpkin
Cookies:
Gingerbread men, sugar, peanut butter, chocolate chip and chunk, cranberry almond, oatmeal raisin, M&M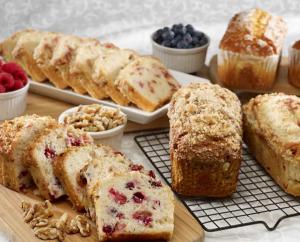 Stop in and PLAY in the Family-Playgrounds!  Visit the farm animals!
This area is our admission area and is $5.00 per person, age 2 and under free!  Farm animals, play equipment, hay barn, corn pit, sand piles and more!   Horses, goats, alpacas, sheep, rabbits, chickens, pigs, cows!