Visit Braehead Farm
0
May 28, 2023, field update:  strawberries have reached peak.  They are on the production decline.  We will have them until about June 9 or so.  Friday and Saturday 26/27th were heavy picking days. No Prepicked berries in the market. 
We have limited rows of raspberries and blueberries.  Lots of leafy greens, and veggies are starting to come in!
Braehead farm is open year round!  OPEN MEMORIAL DAY 9AM-6PM
Spring through Fall hours are Sunday through Monday 9am-6pm. 
(Winter hours are 9am-5pm.)  We are open rain or shine.  NEVER NEED A RESERVATION!  There is no admission fee to the front pick your own fields, just pay for what you pick!  COME ON DOWN!
Asparagus is finished for the 2023 season.  
We also have other leafy green veggies that ARE available to pick and are in the market which are $3.99 per pound.  Go to our crops page:  Pick Your Own – Braehead Farm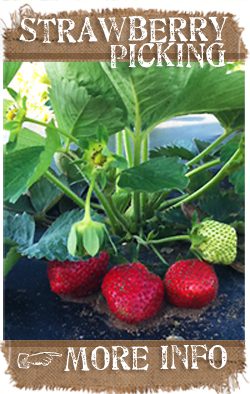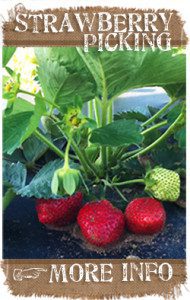 Strawberries will be available through May and then start to dwindle and last through the first or second week of June, depending on weather.
Strawberries are $4.99 per pound PYO and the 4 qt BUSKET for your berries is $1.00.  This busket will hold about 5 pounds.  You keep your berries in the aerated busket and put them straight in the fridge to keep cool until you wash and use them.  Bring the busket back for future visits!
PREPICKED strawberries – The prepicked will be $5.99 per pound in the market.  As of May 27, 2023, SINCE THE SEASON IS PAST PEAK WE WILL NOT HAVE PREPICKED STRAWBERRIES IN THE MARKET AND WILL NOT BE ABLE TO TAKE ANY SPECIAL ORDERS FOR STRAWBERRIES.
Braehead Farm has 5 different varieties of strawberries this year.  They all taste different!
*Before going to pick, please check in with the market for field directions and to get a "busket" (basket/bucket!) or bring your busket from last year!    
*Make sure when you pick, to ONLY PICK ALL RED!  Strawberries will not taste good and are not ripe if they still have white or green on them!   They DO NOT continue to ripen after being picked.  Make sure you pick the strawberry on the stem behind the CAP and leave the cap on!    After picking, bring in your berries to the market for weighing and paying.  The strawberries are weighed and sold by the pound.  They are $4.99 per pound to pick-your-own or $5.99 per pound pre-picked in the market.  Please bring in and weigh/pay for your berries before eating since we sell them by the pound.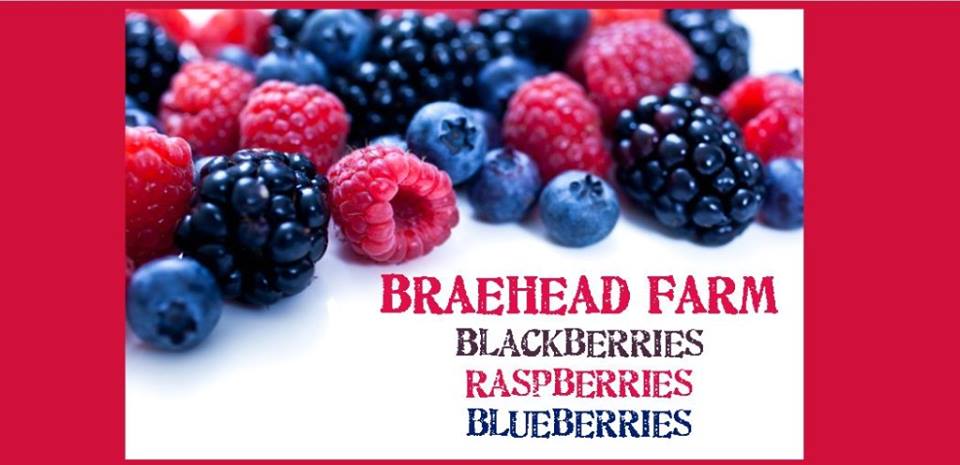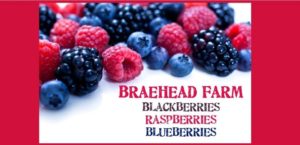 May 26,2023 – RASPBERRIES and a small amount of BLACK RASPBERRIES have come in!
Prepicked $3.99 1/4 pound
Pick Your Own $2.99 1/4 pound
(HALF PINT is about a 1/4 pound)
Blackberries and Blueberries coming around the first week of June! 
We offer our pre-weighed 4 quart "Busket" for a

$1.00

(it will hold about 5 pounds mounded)  We  encourage you to wash and store your berries in it.  You can bring it back for any PYO!  

Our buskets are preweighed

so that the weight of the containers are taken off of the berry weight/price.  You can bring in your own containers, but we cannot take off the weight of your containers at checkout.
Do not wash your berries until you are ready to eat them!  Keep them cool after picking or they will degenerate quickly!
PETS ARE NOT ALLOWED, BY LAW, IN THE FRONT PICK-YOUR-OWN FIELDS.  You are welcome to bring your dog on a leash and pick up after them, in the other areas of our farm.  We prefer the dog NOT come into the market IF the market is busy and full of customers.  WE would be glad to help you to get to the back of the market by walking around.  Just remember that we have free range chickens.  🙂
Strawberry tips!
A  quart equals 1 and 1/2 pounds of fresh  berries. Strawberries measurements: 1 quart = 2 pints = 4 cups and is  about the same as 1 liter and weighs 1.25 lbs to 1.5 lbs (or 600 to 700g). The weight varies on variety and weather conditions.  1 quart is normally enough for 4 servings.
Unripe berries will not ripen once picked. Select plump, firm, fully red berries. Be sure to pick the berry from the stem and leave the hulls on.
Keep the strawberries out of the sun and heat.  Strawberries quickly mold and perish when left at room temperature, and only last about 2 to 3 days in the refrigerator.
You can easily freeze berries that you cannot use right away.  Wash, cut the hulls off and put the berries into a ziplock bag, removing as much air as possible.  The berries will keep for many months frozen without air.
Braehead Farm strawberries are not sprayed with any kind of pesticide.  The plants  (before bearing fruit) are treated with a fungicide during the winter.  No fungicide or pesticides have been sprayed on the berries.  The fungicide we use is on the Green list.
If you would  like to help the farmer, please pick off any berries you see that have rot, insect or sun damage and put them between the rows.  This helps to keep rot from spreading to the other berries on the plant.
For more strawberry picking and storing tips, go to http://www.pickyourown.org/strawberries.htm
The Braehead Farm Market, Lunch Kitchen, and Family Playgrounds is open year round!  You can purchase seasonal produce already picked or pick your own!   Enjoy ice cream!  Shop for beef, pork, dairy products and bakery products!    Jams, relishes and pickles!  Local Honey!  And…so much more!
Let us do the baking for you!  
Feel free to call the Market and

pre-order

for pies, cakes, muffins, cookies, dairy items,  for a pickup!  Let us make that special occasion dinner dessert PIE or sliceable LOAF CAKE for you!  Call the Braehead Market at 540-899-9848
PIES: Apple, Dutch Apple, Caramel Apple Nut,  Blackberry, Blueberry, Cherry, Coconut Custard, Peach, Fruits of the Forest, Strawberry Rhubarb.  Seasonal pies: Pecan, Pumpkin, Raspberry and Sweet Potato.
SLICEABLE LOAF CAKES: Apple Caramel, Blueberry, Cinnamon Burst, Cranberry Orange Nut, Zucchini Nut, Pumpkin, Triple Berry, Peach Melba, Triple Berry Loaf and French Vanilla!
COOKIES: Chocolate Chunk, Double Chocolate Chunk, Sugar Cookie, Oatmeal Raisin, Ginger Molasses, M & M, Smore's, snickerdoodle, coconut pecan.
MUFFINS: Peach, Cranberry Orange Nut, Chocolate Chip, Double Chocolate with chips, Pumpkin, Blueberry, Banana Nut, Lemon Poppyseed, Rum Butter.
************************************************************************
Braehead Farm is open YEAR-ROUND! Our Spring through Fall hours are 9am-6pm. Winter hours are 9am-5pm.
Shop in the market, stay for lunch and ice cream, play in the Family Playgrounds! 
Shop for Farm Fresh Dairy, eggs, meats, bacon, jams, peanut butters, peanuts, fudge, bakery items and more!
*Daily Play in The Family Playgrounds behind the market from 9am-6pm – no reservation needed. 
The daily admission is $6.00 per person, children and adults.  Age 2 and under are always free.    You pay this admission in the market when you arrive.  You can visit the farm animals, play and picnic.  We also offer a Seasonal Pass for unlimited visits during the pass dates, of $25.00 per person, age 2 and under free.   The Spring Summer Season Pass starts for use on February 22, 2023 and goes through Labor Day, September 4, 2023.   The Fall Winter then starts in September through February!  See a cashier for details!
Rental Barns for parties and events!  See our Birthday party page!
The Braehead Farm Lunch Kitchen is open weekdays from 11am-2pm and weekends from 11am-4pm.  You can picnic beside the market or in the Family Playgrounds if you have paid admission.  We do have limited table spaces inside the market for lunch and ice cream.
View our current  menu:  click this link…
Braehead Farm Lunch Kitchen | Braehead Farm
 ********************************************************************
Contact Us
Phone: 540-899-9848
Fax: 540-899-9847
Email: info@braeheadfarm.com
1130 Tyler Street
Fredericksburg, VA22401
map