Family's farm opening for business in the city
0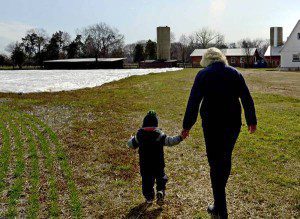 Article courtsey of the The Free Lance-Star. 
Original article in The Free Lance Star in  2013 when Braehead Farm opened to the public.
The Snead family is starting an agri-tourism business in Fredericksburg that will feature pick-your-own strawberries, a market with local produce and a venue for birthday parties.
The business, called Braehead Farm, will be on a 28-acre property that has been in the Snead family since 1937.
It's off Tyler Street next to the Battlefield Industrial Park, which was built on land the Sneads formerly owned. The family also farms an adjacent 56-acre property.
George and Roxanna Snead will run the business. George Snead's grandfather bought the property in 1937 and ran the Braehead Farm dairy operation there. Snead's father later took over that operation, and his mother, Jane, still lives there.
The property is a rarity in the small city of Fredericksburg: a fairly large tract of land that remains agricultural. Roxanna Snead looks forward to welcoming city children and schools onto the property to give them a taste of the farm life.
The farm and market will be open to the public from 10 a.m. to 6 p.m. daily in season. It will probably close between Christmas and sometime around Easter.
The market will be in a white former dairy barn. It will sell farm products, including fresh fruit and vegetables, meat, eggs, cheese, milk, ice cream and honey. The food will come from Braehead and Snead's Farm, which is run by George Snead's brother, Emmett III, off U.S. 17 in Caroline County. Other local farms will also provide some items.
The Sneads plan to open Braehead Farm to the public after the acre of strawberries they planted last year is ready for picking, probably in late April. They are now developing a website, renovating barns and stables and looking for a market manager. George Snead owns a custom home-building business, so he is overseeing the construction work.
Birthday parties and other special events are a big part of the Sneads' business strategy. Children will be able to run around the farm, go on slides and swings, ride bikes, roll around in the hay, pet animals such as goats and pigs and ultimately gather for the requisite cake in a renovated farm building.
All the amenities won't be ready when the business first opens, and the Sneads plan to add features gradually. They are thinking about offering a Community Supported Agriculture program, which Emmett Snead III already does at his Caroline farm, in future years. Pick-your-own offerings will start with strawberries and expand to other produce.
George Snead plans to plant grapes for wine on the property. He started making wine a few years ago and thought about opening a vineyard on the farm.
Ultimately the family decided to stick to what it knows best—farming. It's possible that a small vineyard could be added in the future.
Bill Freehling: 540/374-5405